Published in the May 2000 Issue of Anvil Magazine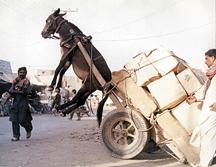 Dear Editor,
How to tell if your ass is too small...
Bill Cutler, Garden Valley, California
Image found on the internet.
Source unknown.
Dear Editor,
Under the leadership of Jeff Engler, national award-winning farrier instructor, Walla Walla Community College's Farrier (Horseshoeing) Program is being dramatically expanded to include a second year of intensive study and specialized sessions ranging from two days to six weeks.
Starting this fall, farrier students will be able to return for a second year of advanced training that will prepare them to take the Certified Journeyman Farrier examination offered by the American Farriers Association. The training and testing program brings the farrier to the highly respected Journeyman level. Second-year students will gain advanced training and experience, including hand-making advanced shoes and hot-fitting shoes to horses.
Starting this summer, the college will offer a six-week summer course that features highly individualized instruction by Mr. Engler and two assistants. The class will be limited to 16 students and aimed at three groups: working farriers seeking to upgrade their skills, horse owners wanting to learn how to shoe their own horses, and beginning students on a very tight schedule.
Instructor Jeff Engler holds a Bachelor of Science in Range Management from Montana State University and is a graduate of Montana State University Horseshoeing School. Before undertaking the assignment as farrier instructor at Walla Walla Community College, Mr. Engler was a self-employed farrier for 18 years.
Jim Willis, Educational Director Walla Walla Community College, Walla Walla, WA
Web site: http://www.wallawalla.cc
Dear Editor,
I want to congratulate you on the overall quality of the magazine you are producing for farriers and blacksmiths. Not being either a horse owner or farrier, my interest has primarily been in the articles relating to blacksmithing topics. However, the February issue was one of those where I had to read each and every page in detail before I could put it down. I can't remember when I last did this with any magazine, but I felt obligated to send you this note expressing my most sincere appreciation.
Bill Curry, Placerville, California
Dear Editor,
Regarding your December, 1999 issue, Part 4 of John Barron's Wine Rack article and regarding Steve Joslyn's recipe for finishing wax. What is Johnson's Paste Wax? I cannot get it in my part of Australia. Could you tell me what it is made up of or where I could get it or a substitute for it? Thanks for your time and the magazine. Yours with a hammer, Greg Zwar, Blacksmith, Harrow, Australia
Editor's Note: The author of the article, John Barron, replied with the following information: For Johnson's Paste Wax information, call or write: Carol Hansen, Johnson's Paste Wax, S.C. Johnson & Sons, Racine, WI 53403. Phone: 800/558-5252.
Dear Editor,
My comments are in response to George Pare's letter in the March, 2000 Letters to the Editor of ANVIL Magazine. All of the side draft forges I have seen have no firepot. The entire table is the firepot. Keep in mind the tuyere is (was, should) be water cooled. I have a scale drawing of said tuyere (in millimeters) if you are interested. Sounds like a neat project, and I'd like to come and see it sometime.
Bill Merfy, Las Vegas, Nevada
Dear Editor,
I don't know who the author is, but I ran across this recently on the Internet. It's worth the read.
Michael is the kind of guy you love to hate. He is always in a good mood and always has something positive to say. When someone would ask him how he was doing, he would reply, "If I were any better, I'd be twins!" He was a natural motivator. If an employee was having a bad day, Michael was there telling the employee how to look on the positive side of the situation. Seeing this style really made me curious, so one day I went up to Michael and asked him "I don't get it! You can't be a positive person all the time. How do you do it?" Michael replied, "Each morning I wake up and say to myself: Mike, you have two choices today. You can choose to be in a good mood or you can choose to be in a bad mood. I choose to be in a good mood. Each time something bad happens, I can choose to be a victim or I can choose to learn from it. I choose to learn from it. Every time someone come to me complaining, I can choose to accept their complaining or I can point out the positive side of life. I choose the positive side of life.
"Yeah, right; it isn't always that easy," I protested.
"Yes it is," Michael said. "Life is all about choices. When you cut away all the junk, every situation is a choice. You choose how you react to situations. You choose how people will affect your mood. You choose to be in a good mood or bad mood. The bottom line is: It's your choice how you live your life."
I reflected on what Michael said. Soon thereafter, I left my job to start my own business. Mike and I lost touch, but I've often thought about him when I made a choice about life instead of reacting to it.
Several years later, I hear that Mike was involved in a serious accident, falling some 60 feet from a communications tower. After 18 hours of surgery and weeks of intensive care, Michael was released from the hospital with rods placed in his back. I saw him about six months after the accident. When I asked him how he was, he replied, "If I were any better, I'd be twins. Wanna see my scars?" I declined to see his wounds, but did ask him what had gone through his mind as the accident took place.
"The first thing that went through my mind was the well-being of my soon-to-be- born daughter," Michael replied. "Then, as I lay on the ground, I remembered that I had two choices: I could choose to live or I could choose to die." I chose to live.
"Weren't you scared? Did you lose consciousness?" I asked.
Michael continued, "...the paramedics were great. They kept telling me I was going to be fine. But when they wheeled me into the ER and I saw the expressions on the faces of the doctors and nurses, I got really scared. In their eyes, I read He's a dead man. I knew I needed to take action.
"What did you do?" I asked.
"Well, there was a big, burly nurse shouting questions at me," said Michael. "She asked if I was allergic to anything. `Yes, I replied.'" The doctors and nurses stopped working as they waited for my reply. I took a deep breath and yelled, "Gravity!" Over their laughter, I told them, `I am choosing to live. Operate on me as if I am alive, not dead.'"
Michael lived, thanks to the skill of his doctors, but also because of his amazing attitude. I learned from him that every day we have a choice to live fully. Attitude, after all, is everything.
Bill Pieh, Burlington, Wisconsin
Dear Editor,
Cold spring showers couldn't dampen the spirits of the blacksmithing enthusiasts who flocked to the shop of Geronimo Bayard to attend the American Village Blacksmith's Alphabet Soup Demonstration Day on March 18. Attendees came from as far away as Coos Bay, Medford and Portland, as well as from the local area surrounding Oakland, Oregon.
As promised on his fliers and Web site, Geronimo did demonstrate basic blacksmithing techniques as well as "Why didn't I think of that?!" tips. Among other things, he made two sets of tongs (which were given as door prizes), "castle nails," a boot scraper, a split basket finial and forged leaves. A hand-forged nail was given to everyone as they arrived.
Making new friendships and renewing existing ones emphasized the "fun" part of this educational day. One much-talked about item on display was a copy of Francis Whitaker's The Blacksmith's Cookbook, with Francis's autograph and touch mark. Also attracting much attention was The Blacksmith's Challenge, which demonstrates the imagination and versatility of the smith by creating a large variety of items, all made from identical pieces of 1/2" x 1/2" x 3" steel. This collection can be viewed on the Internet at http://www.americanblacksmith.com /blacksmith's challenge.htm.
Geronimo was very pleased to see that, although outnumbered by the men, women accounted for about one third of those attending the Demo Day. Geronimo is always quick to remind us: "Don't forget that it was Vivian, The Lady of the Lake, who wrought King Arthur's famed sword, Excalibur. Women make good blacksmiths; all the ladies who have attended my classes have done very well."
A complete schedule and description of upcoming blacksmithing classes can be found at http://americanblacksmith.com/class schedule.htm.
Geronimo's next demonstration will be at the "Windows on the Past," an 18th- century craft extravaganza. This free-to-the-public event is sponsored by the Umpqua National Forest and will be held at the Douglas County Museum of Natural History in Roseburg, OR, May 10 - 13. Over 1500 school children are scheduled to tour the demonstrations of crafts from years gone by. Geronimo's portable blacksmith shop is sure to be one of the most popular with the children. Anyone in the Roseburg area those four days is urged to stop by and say hello.
Mary Bayard, Oakland, Oregon
Return to the May 2000 Table of Contents
Return to Commentary Articles page