Published in the October 2001 Issue of Anvil Magazine
In Memory of Geronimo Bayard
Dear Editor,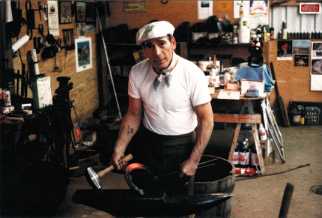 It is with broken heart and tears in my eyes that I write this letter. I still haven't figured out a good way of saying it, but Geronimo died July 16th in his shop. His death was sudden and unexpected; apparently a heart attack. He had been complaining of chest pains for a long time, but his doctor kept reassuring him that it was just pleurisy. Anyway, he is gone now. The darned doctor is alive and well.
I'm not taking it very well. Geronimo was much more to me than a dearly loved husband. He was my partner, my constant companion and closest friend. His loss will take some getting over.
Perhaps one of the saddest things is that this spring the classes really took off, and even more so in the summer of 2001. I can't believe how many people have e-mailed and phoned wanting to sign up, just since Geronimo died. This was in large part due to the wonderful cooperation of you folks and the coverage you gave the school in ANVIL Magazine and on your www.anvilmag.com web site.
Of course there will be no more classes-Geronimo was the school. I worked hard at it, too, but I don't do blacksmithing.
Geronimo had selected the epitaph he wanted long ago. It was on an old headstone marking the grave of a blacksmith in Wales, which some of your readers may have seen before:
My sledge and hammer lay reclined,

My bellows, too, have lost their wind,

My fire's extinct, my forged decayed,

And in the dust my vise is laid;

My coal is spent, my iron gone,

My nails are driven-my work is done.

We are going to try and get the local monument company to work with Alan Flashing and Grayson Nance of nearby Flashing Forge, both of whom were friends of Geronimo's, so that the marker will be of steel and made by real blacksmiths who knew him.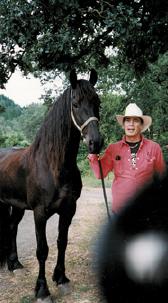 At Geronimo's service, on a table we displayed the ANVIL Magazines that had the three articles Geronimo had written, along with his photo albums and portfolio.
Mary Bayard, Oakland, Oregon
From the obituary in the News-Review of Roseburg, Oregon...
From his father Robert Bayard, Geronimo learned that a man must always take care of his family, stand up for what is right and never run away from a fight. A tough and perhaps old-fashioned code to live up to, but it always served him well. His father instilled in Geronimo the love of horses that was to be a driving force for his entire lifetime. He also taught him how to shoe horses. Geronimo began shoeing when he was 14 years old and although he also worked at many other things during his life, he never completely stopped shoeing and always returned to it.
As a young man he once took a job in a gym to combine wage-earning with his interest in bodybuilding and placed in the top ten in the New York Mr. Universe competition. A few of his other pursuits included owning his own landscaping company, spending a few years as a motorcycle policeman, being owner/operator of a long haul semi-truck, and being in charge of building a multi-million dollar recreational vehicle park in Florida, and then managing it.
Geronimo decided that in order to become the best horseshoer he could possibly be, he would need more education. He drove from Florida to California to attend the best school he could find and in 1978 he graduated from the Porterville Horseshoeing School. He returned to Florida, but soon afterwards moved to the Roseburg, Oregon area. Whether he was shoeing a show horse worth many thousands of dollars or trimming a backyard pet donkey, Geronimo always gave each animal his absolute best effort.
In 1990 Geronimo was married to Mary Smith Nelson Bayard, who is his only surviving family.
Since 1994 Geronimo has been helping horses and their owners in all parts of the world by answering questions about horse care and shoeing via his web site on the Internet.
Blacksmithing-the craft of making items out of metal-was a natural outgrowth from horseshoeing. In latter years as working under horses became more difficult, Geronimo spent more time blacksmithing and less time shoeing. Eighteenth-century blacksmithing especially appealed to his sense of honor and tradition and, in 1995, Geronimo started his American Blacksmith School to pass some of his smithing knowledge onto others.
One of his recent graduates summed it up by writing, "Thank you for the education. I loved the legend, lore, the mystery, and, best of all, the magic! Thank you." This sentiment is echoed by his widow Mary, his clients and many friends.
Dear Editor,
The National Ornamental Metal Museum, open in Memphis since 1979, announces the first capital campaign in its 22 years of operation. In May, the Board of Trustees voted unanimously to authorize the 1.5 million-dollar campaign to renovate an historic building on the property to house the museum's significant library holdings and to create much-needed meeting and classroom space. Related site improvements will include relocation and expansion of the museum's foundry, the creation of a new staff parking area, landscaping and an addition to the Schering-Plough Smithy. Architect for the project is Reb Hazilip, The Hazilip Firm, Memphis, Tennessee.
Currently, the museum's library holdings include approximately 6000 volumes and over 10,000 slides. Many rare and extremely valuable books and folios date from the 17th and 18th centuries. It is, without question, the finest library on the subject of decorative metalwork in the region and one of the best in the United States.
The building to be renovated was built in 1883 as part of the first federally funded health care facility in Memphis. In 1980, the building was placed on the National Register of Historic Places. Although it would be far less costly to demolish it and construct a new building to house the library, the staff and Board of Trustees recognize their stewardship role to preserve it.
In December 2000, the museum was invited to make a proposal to an anonymous, charitable foundation for the library. A $300,000 challenge grant was made with matching funds of $100,000 per year over three years: 2001, 2001 and 2003. Even without formal announcement of a capital campaign, the museum has raised $168,250. All contributions made to the campaign are being held in an interest-bearing fund at the Community Foundation of Greater Memphis.
Donors who wish to make a contribution to the capital campaign may send it to: Capital Campaign, National Ornamental Metal Museum, 374 Metal Museum Drive,
Memphis, TN 38106.
Jim Wallace, Director
National Ornamental Metal Museum, Memphis, Tennessee

Dear Editor,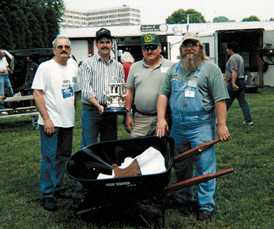 On May 19, 2001, at the Carroll County Farm Museum's Blacksmith Days, history was made. A team of farriers challenged a team of blacksmiths to an anvil relay race. The farriers were quite surprised by the blacksmith's initial apprehension to partake. But they rose to the challenge when a case of Guinness beer was thrown in with the trophy for the winners.
From the opening start the blacksmiths took a commanding lead which they never surrendered. We never would have guessed that guys who look like that could run so fast. Yes, gentlemen, our hats are off to you and congratulations! You may have won the race, took sole possession of the Gibbins/Kearns Cup, have all bragging rights for the whole year, and the case of Guinness to enjoy, but just remember, farriers still drive nicer trucks.
So live with that and we'll see you next year.
Blacksmith Team Members
Bill Clemens, Ken Hershiner, David Hutchison, and Ken Strosnider
Farrier Team Members
Danny Ward, Lee Cornelius, Kevin Gibbins, and Patrick Kearns
Patrick D. Kearns, Chesapeake City, Maryland

Return to the October 2001 Table of Contents
Return to the Commentary Articles Page