Published in the July 2000 Issue of Anvil Magazine
Please note: The complete version of this interview is located in our Full Content Area which is available to Anvil Magazine subscribers and Anvil Online members.
Go to the complete article now
Subscribe now using our secure server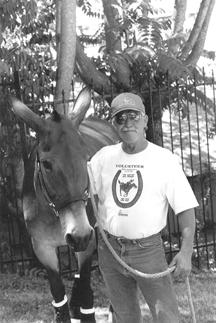 Farrier Wayne Bair resides in Oroville, California, and has lived there since 1972. He is an AFA-certified Journeyman farrier and has been shoeing horses for 44 years.
ANVIL: Wayne, you were president of the California State Farriers Association.
WAYNE: I was president three or four years after its inception. I started out as a member of the board first, then vice president, and worked my way up. I was president for three years. We had chapter presidents whose main responsibility was to line up help for farriers within the association who got hurt.
ANVIL: Yes, I remember once when I got hurt, you and your apprentice came to my place and shod horses for three days and gave me the money.
WAYNE: And you returned the favor several years later. The main purpose of the association, however, was to further our education in farriery.
ANVIL: You've been a farrier on the Tevis ride for how long now?
WAYNE: For 13 years; I haven't missed any years since I began.
ANVIL:: Anything exciting happen on the Tevis ride this year?
WAYNE: There's usually a 20-minute period at Robinson Flat, which is 37 miles into the ride, where some horses have lost shoes and the riders get panicked about quickly getting back into the race. But there were a lot of shoes off at Robinson this year - a lot more than last year. Even though last year it rained in the West on and off for seven months and the feet were not in as good shape, we just didn't have that many problems with the feet last year. But this year we certainly had to do a lot of shoeing and repair work.
ANVIL: The Arabian horses that complete this 100-mile course in 24 hours or less are phenomenal athletes. They survive and do well despite what people feed them, despite bad shoeing - all kinds of setbacks. They are horses that possess heart and good survival instincts. You can have flaws in the training program and the horse will still overcome them.
WAYNE: That's right. It doesn't necessarily have to be an Arabian, either. A mule finished in the top ten the year before last (see ANVIL Magazine interview with Frank Smith, January, 1998).
ANVIL: Three years in a row at the Tevis we picked up all those horses' feet and judged them. There were at least four farriers each of the three years. Do you remember that?
WAYNE: Yes. We used a Finnegan gauge to judge medial/lateral balance and recorded anterior/posterior balance. We used our collective expertise, and the whole purpose was to judge how well each horse was shod for the race. We then correlated the results. So after three years of doing that, we cranked the results into the computer. What we found out was that the theory that horses that were......
<End of Abstract>
Please note: The complete version of this interview is located in our Full Content Area which is available to Anvil Magazine subscribers and Anvil Online members.
Go to the complete article now
Subscribe now using our secure server
Return to the July 2000 Table of Contents
Return to the Farrier Articles Page