Published in the March 2002 Issue of Anvil Magazine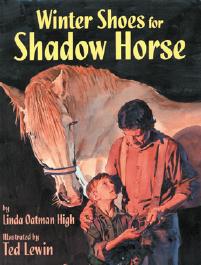 Winter Shoes for Shadow Horse
First Edition, 2001 by Linda Oatman High Illustrated by Ted Lewin
31 pages, hardbound. Publisher: Boyds Mills Press,
815 Church Street, Honesdale, PA 18431. ISBN No: 1-56397-472-X
$15.95 U.S. $24.99 Canada

This is a story for children about horseshoeing. A boy shoes his first horse under the guidance of his father. He hears the ringing of the hammer in the evening air. He follows the sound to the blacksmith shop, where the fiery forge makes it a warm place on a winter's night. The boy watches as his father pounds steel on an anvil. Tonight he is making shoes for Shadow Horse. This night will be a special one for the boy, when his father helps him shoe his first horse.
Linda Oatman High's beautiful story depicts the loving bond between parent and child, while Ted Lewin's luminescent illustrations capture the glow and flickering shadows of a blacksmith shop in winter.
Winter Shoes for Shadow Horse would make a nice gift for a child.
Linda Oatman High is also the author of Beekeepers, and Barnsavers, also illustrated by Ted Lewin. Her novels include Maizie, Hound Heaven, The Summer of the Great Divide, and A Stone's Throw from Paradise. She lives in Narvon, Pennsylvania.
Illustrator Ted Lewin has illustrated more than 100 books for children. He resides in Brooklyn, New York, with his wife Betsy, who also illustrates children's books.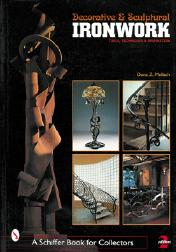 DECORATIVE & SCULPTURAL IRONWORK
Tools, Techniques & Inspiration
by Dona Z. Meilach
Published by Schiffer Publishing, Ltd., 4880 Lower Valley Road, Atglen, PA 19310. 308
pages. $34.95. ISBN #: 0-7643-0790-8

Since the beginning of the twentieth century, references have relegated the blacksmith to a more poetic than productive position, but today ironworkers are discovering what generations of smiths knew long ago-that iron has remarkable properties. It is a metal that can be drawn out, formed, machined, cast, laminated, hammered, inlaid, etched, punched, split, rolled, bent, chased, spun, welded, riveted, collared, and more. And now, with the help of this unique book by Dona Meilach, all the fascinating properties of iron and other metals can be creatively explored by anyone interested in this exciting medium.
Beginning with a short history of ironwork, the author goes on to discuss the ironworking shop, the forge, and the tools, including anvils, vises, hammers, tongs, punches, centrifugal blowers, and machine tools. Here is invaluable information on building, lighting and maintaining a fire, and safety precautions. Basic forging procedures are explicitly shown: drawing out, flattening, bending, upsetting, twisting, splitting, punching and drifting, hot cutting on a hardy, and joining and finishing techniques. Additional working methods are illustrated in each chapter.
Ironworkers can fashion a wide variety of objects by following Dona Meilach's clear directions and step-by-step photographs. There are imposing pieces of sculpture, carved animals, gates, grilles and railings, locks, blades for knives, choppers and scissors, along with ideas for toys, clothes racks, weathervanes, tables, buckles, necklaces and even decorative helmets.
The author, Dona Meilach says, "There is no doubt that blacksmithing, though an ancient craft, is new, vital, and open to infinite exploration in our contemporary art-craft context."
Return to the March 2002 Table of Contents