Published in the May 2000 Issue of Anvil Magazine
Please note: The complete version of this interview is located in our Full Content Area which is available to Anvil Magazine subscribers and Anvil Online members.
Go to the complete article now
Subscribe now using our secure server
Gary Brown runs a blacksmith shop out of his garage in a very densely populated residential area close to the beach in Southern California. Dealing with the authorities on zoning and permits has been a lesson in patience and fortitude for him.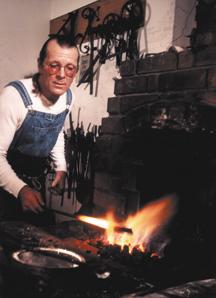 ANVIL: Gary, you own a blacksmith shop in a residential area in a Southern California beach city. Statistically, isn't Hermosa Beach one of the most densely populated communities in the United States?
GARY: Yes; there are over 20,000 people per one square mile.
ANVIL: What's interesting also is that there is a two-story limit on any building built i Hermosa Beach. Essentially, then, there are small residences packed rather closely together. You live two blocks from the beach, I understand.
GARY: Yes, on a 35-foot by 80-foot lot. There are two houses on this lot!
ANVIL: Is the blacksmith shop in a part of your garage?
GARY: Yes, I have 1000 square feet of garage, of which the blacksmith shop is just one- fourth of the area.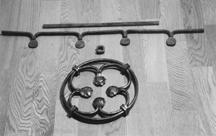 ANVIL: Before we get into the specifics of your shop and how you conduct business in a residential area, I'd like to ask you how you got started in blacksmithing.
GARY: In the early 1980s, I started shooting black powder guns, going to rendezvous. From that point on, I started to wonder how they made rifles back then - in particular, flintlock rifles. Since they didn't have machinery in those days, how did they bore a hole down a 42- or 44-inch barrel? It's very difficult to do that even today. How did they do that in the 1700s? Then I did some research and found out that there were gunsmiths who actually did not bore holes to make the gun barrels. In my research I found out about....
<End of Abstract>
Please note: The complete version of this interview is located in our Full Content Area which is available to Anvil Magazine subscribers and Anvil Online members.
Go to the complete article now
Subscribe now using our secure server
Look for part 2 next month
Return to the May 2000 Table of Contents
Return to the Anvil Blacksmithing Articles page