Published in the June 2001 Issue of Anvil Magazine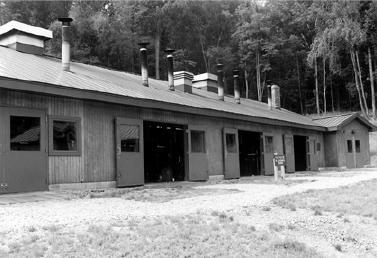 Image: Hart Moore Blacksmith Studio
Editor's Note: Last spring I was fortunate enough to attend a blacksmithing class taught by Peter Happny at Touchstone's new Hart Moore facility. The following article tells the whole story of this wonderful new studio from its inception.
Imagine-a 5,000 square-foot, fully enclosed forge building, plus a 2,000 square- foot museum/classroom building. Overall, a $700,000 premier blacksmith teaching facility! This is the new Hart Moore Blacksmith Studio opened in the summer of 1999 by the Touchstone Center for Crafts, located just south of Pittsburgh in Farmington, Pennsylvania.
Even we who are involved at Touchstone still find it hard to believe-a dream come true after so many years of teaching blacksmithing in an ancient, open-sided stable.
It all began on a June day in 1997 when Robert E. Eberly, a long-time supporter of Touchstone, unexpectedly announced that he and the Eberly Foundation would be interested in financing a new blacksmith studio to be dedicated in honor of his maternal grandfather, Hart Moore, who practiced blacksmithing in southwestern Pennsylvania at the turn of the century. Mr. Eberly urged that Touchstone aim high-that the new facility should be nothing less than the best in the country. He also asked that the studio complex reflect the heritage of blacksmithing, proposing that there be a museum space for the display of historical materials as well as representative works of contemporary smiths.
I became coordinator of the project, working with long-time Touchstone shop manager Jim Campbell, board member John Pollins and Richard Sheppard, a professional metalworker whose shop is located in nearby Bruceton Mills, West Virginia. A number of respected blacksmiths were consulted, and their input proved invaluable in helping us shape our own thoughts and conclusions. On an early visit to the John C. Campbell Folk School, in Brasstown, North Carolina, we were fortunate in having an opportunity to talk with Francis Whitaker, who was teaching there at the time, assisted by another skilled blacksmith, Clay Spencer.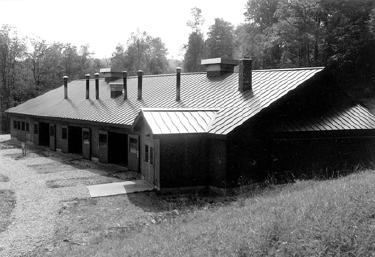 Image: Hart Moore Blacksmith Studio
Armed with much advice, we then retained an architect to design the new studio. As one might expect, it proved impossible to find an architect who has designed a blacksmith shop-nor could we find one in our area who had ever worked in one, even as a student. Accordingly, the design process proved interesting, but happily the desired end product was ultimately achieved.
The forge building is a jewel and a pleasure in which to work. Build of post-and- beam timber frame construction, 50'x 100', it provides more-than-ample space for the 12 student forging stations and an instructor's station composed around a reproduction of an early 1800s stone forge. The student forges were designed and constructed by Richard Sheppard with side-draft smoke chambers that work like a charm. Richard designed the air controls so that these student forges can be operated from either side: from the inside for normal use with the anvil and vise or from the outside where the treadle hammers are situated close by.
A tremendous feature of the forge building is that it can either be entirely closed and secured or wholly opened for ventilation and comfort in warm weather. Each of the 100-foot long sidewalls contains four 8-foot wide double doors, and the north end of the building can be fully opened by telescoping doors. For positive ventilation, there are two independently controlled exhaust fans installed on the roof ridge. Critically, the double roof is heavily insulated throughout. During the unusually hot summer of 1999, the forge building was quite comfortable on the hottest days. With dual sanitary facilities for female and male students, plus a full-sized shower, all the integral components of the forge building are unsurpassed.
A central air supply system furnishes air to the 12 student forges. Two blowers, one centrally located on each side of the roof, feed directly into two trunk lines in the open ceiling; each trunk is connected to six forges. The downcomers from the trunks are brought down immediately beside the stainless steel stacks, making for a compact, straightforward piping arrangement that takes up minimal space. Here we must thank Clay Spencer for his generous advice that helped us work through this critical component of the new shop. Based on Clay's flow specifications as to required volume and pressure at the firepots and his repeated urging that we keep the piping clean and direct, the central air supply system works flawlessly. The centerpiece of the forge building is the "Jim Campbell forge," so named in recognition of Jim's many years of untiring volunteer service as manager of the blacksmith program. Without Jim Campbell, it is fair to say that Touchstone might well not have had a blacksmithing program or this wonderful new facility. The Campbell forge, located in the center of one end of the building, is the instructor's, or demonstrator's station. It is a faithful reproduction of two existing, nearby forges that were built in the 1830s. The substantial stone base rising from the concrete floor and the side-draft smoke chamber are made of hand-cut stone salvaged from the foundation of an old farmhouse. The chimney is constructed of used, oversized red brick. Because of its location, this forge is not connected to the central supply system; rather, it is constructed so that it may receive air from either a set of bellows or a standard electric blower hidden inside the stone base. The Campbell forge, like the Sheppard student forges, works superbly.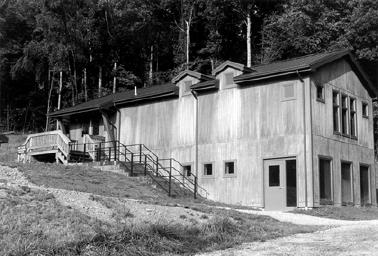 Image: The Museum Classroom Building
The only significant glitch encountered with the student forges in the 1999 "shakedown" season was the fact that the HVAC subcontractor put residential-type caps on the stacks that did not adequately allow the exhaust smoke to freely dissipate above the new roof. New caps were custom made for installation prior to the 2000 season.
The new studio is well equipped with power and treadle hammers. A new Kuhn air hammer, Model 2000 K/CF-40, has been installed and a 100-lb. Bradley has been brought over from the old shop. Four new treadle hammers were acquired, two made by former ABANA President Lou Mueller and two by Richard Sheppard. In addition to the usual array of other equipment, there are two new gas forges by Hans Peot, two 5-foot by 5- foot industrial layout bending tables, and new tongs for each student station made by Glenn Horr.
In the museum/classroom building, the first showing was held in the summer of 1999 in conjunction with the dedication of the complex. A more extensive exhibit of other smith's works was held last summer.
All in all, the Hart Moore Blacksmith Studio makes for an impressive facility.
But we at Touchstone remain keenly aware that the quality of a school depends on much more than structures and equipment. Based on over 20 years of blacksmith teaching, we fully appreciate the core requirement for a program and instructors that reflect unwavering dedication to the discipline. As stewards of the wonderful gift that is the Hart Moore Studio, we are dedicated, through its use, to achieving an ever-higher standard of blacksmith education. We look forward to continuing our association with all in the blacksmithing community. Only through those associations can we attain the goals to which we aspire.
Please come to see us and work in our new shop! Our 2001 class schedule can be found in the Calendar of Events section in each issue of ANVIL Magazine. We're planning our first annual blacksmith conference at the Hart Moore studio for the spring of 2002. For more information or to receive a class catalog, call 1-800/721-0177. Our e-mail address is: tcc@hhs.net and our Web site is: www.touchstonecrafts.com.
Editor's Note:
Bill Miller lives in Bruceton Mills, West Virginia, and is president of Touchstone Center for Crafts. Excerpts from this article were reprinted with permission from The Anvil's Ring.

| | |
| --- | --- |
| One of the forging stations | Post-and-beam ceiling |
| | |
Return to the June 2001 Table of Contents
Return to the Blacksmithing Articles Page