Characters
© Bob Bergman
published in ANVIL Magazine, January 1997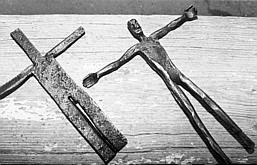 While attending the ABANA Conference in New York last summer, I watched Bob Bergman repeat a demonstration that he gave at the California Blacksmith Association 1995 Oktoberfest. Bob gave credit to Joel Volz who taught him how to make these characters. Joel had given us a similar demonstration at the 1984 Oktoberfest.
Bob said you can use any size stock. He started with 3/8" x 1-1/2" x 9" stock. He marked the piece thus: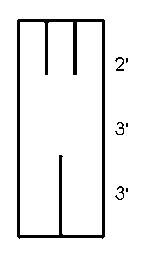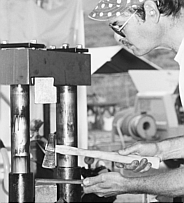 1. Mark with hot cut that has rounded ends.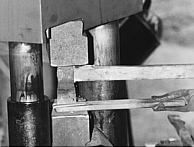 2. Cut from one side.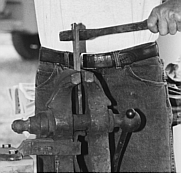 3. Cut bottom of split with wedge tool as you would with an adz.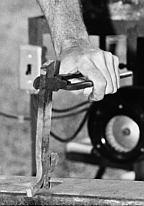 4. Use the hardie hole to square up the arms.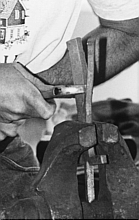 5. Twist legs forward leaving butt on bottom side of split.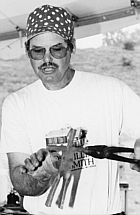 6. Check the body proportions.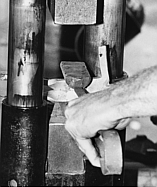 7. Fuller the waist.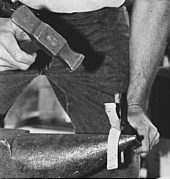 8. Spread the legs.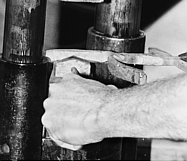 9. Work each leg with large fuller at half way.
Work ankle half way on bottom half of legs.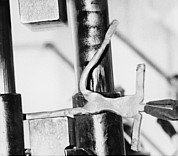 10. Forge out the legs.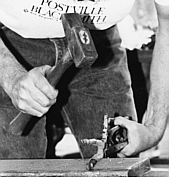 11. Work foot on edge of anvil - leave material for back
ball of foot. Finish with toes at angle.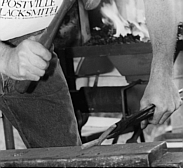 12. Round arms.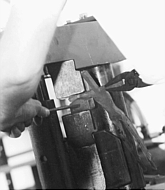 13. Work each arm with a large fuller at the elbows.
Forge out the arms.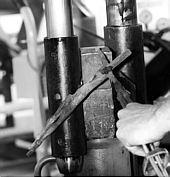 14. Flatten hand.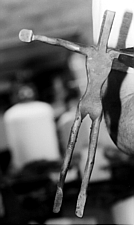 15. Flattened hand.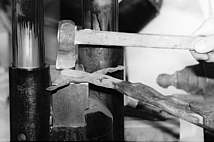 16. Split corners off for chin.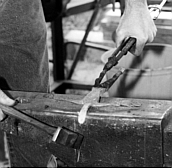 17. Fuller neck down. Fold head over to forward side.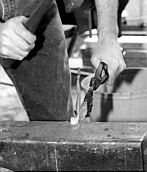 18. Shape the head.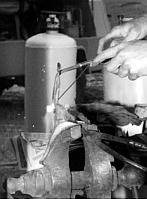 19. Use oxyacetylene to weld the head together.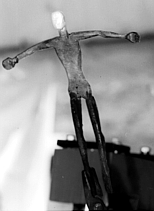 20. Head nears completion.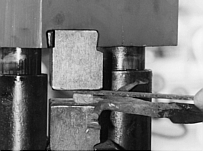 21. Block face down with set tool. Bend feet up.
Flatten finger area to make larger. Cut fingers cold.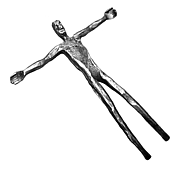 Voila!
Bob Bergman has been operating the Postville Blacksmith Shop since 1969 in Wisconsin. This is a 140-year-old crossroads shop making custom architectural ironwork, subcontract forging, toolmaking and machinery repair.
Return to the Blacksmithing Articles listing page.
Return to the ANVIL Online Table of Contents for January, 1997.