Find a Need and Fill It
© Diana Mead Jordan, in cooperation with Deere & Company
published in Anvil Magazine April, 1996.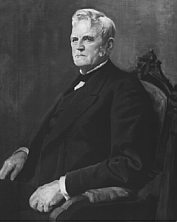 John Deere. Today this name is associated with Deere & Company, the world's leading producer of farm equipment. One hundred and fifty years ago it was John Deere, blacksmith.
He grew up in Vermont where he received a common school education and served a four-year apprenticeship learning the blacksmith's trade. In 1825, he began his career as a journeyman blacksmith and gained considerable recognition for his careful workmanship and ingenuity. His highly polished hay forks and shovels especially were in great demand.
As business conditions in Vermont worsened in the mid-1830s, many Vermont natives emigrated to the West, and the tales of golden opportunity that filtered back stirred John Deere's enthusiasm to go west. He left his pregnant wife and four young children behind and moved to Grand Detour, Illinois. His family, which eventually grew to nine children, followed him the next year.
The need for a blacksmith was so great that two days after his arrival in 1836 he had built a forge and gone to work shoeing horses and oxen, and repairing plows and other equipment for the pioneer farmers. From them he learned of the serious problem they encountered in trying to farm the fertile soil of the Midwest. The cast-iron plows they had brought with them from the East were designed for the light, sandy New England soil. The rich midwestern soil clung to the plow bottoms, and every few steps it was necessary to stop and scrape the soil from the plow. Plowing was a slow and laborious task, to the point of discouraging many pioneers, who were seriously considering moving on or heading back east.
Deere recognized a need and, in 1837, through trial and error, built a plow with a uniquely designed polished steel that successfully scoured itself clean as it moved through the soil. His first plow was fashioned from a discarded mill saw blade.
He did not abandon his regular blacksmith work at first, but built plows as a sideline. In 1839 he built and, more importantly, sold ten of them. As demand for his plows increased, he gradually devoted all of his effort to their design, manufacture and sale.
It was the practice of that day for blacksmiths to build tools on order for customers. But John Deere took a bold step: He built the plows before he had orders for them. He then took them to the country to be sold - an entirely new approach to manufacturing and selling in those early pioneer days. Word quickly spread of John Deere's self-polishers.
There were many problems involved in attempting to operate a manufacturing business on the frontier - a scarcity of steel, few banks, poor transportation, among others. John Deere's first plows had to be produced with whatever pieces of steel he could locate. In 1843, he arranged for a shipment of special rolled steel from England. This steel had to be shipped across the Atlantic Ocean by steamship, up the Mississippi and Illinois Rivers by packet boat, and overland by wagon 40 miles to the little plow factory in Grand Detour.
In 1846, the first slab of cast plow steel ever rolled in the United States was made especially for John Deere and shipped from Pittsburgh to Moline, Illinois, where it was ready for use in the factory Deere opened there in 1848. Moline was well located near water power and transportation offered by the Mississippi River.
In those early years of his business, Deere laid down several precepts that have been followed faithfully since then by the company he founded. Among them was his insistence on high standards of quality. John Deere vowed: "I will never put my name on a plow that does not have in it the best that is in me."
One of his early partners chided him for constantly making changes in design. His partner said his work was unnecessary because the farmers had to take whatever they produced. Deere replied: "No, they don't have to take what we produce. If we don't improve our product, somebody else will."
In 1868, Deere's business was incorporated under the name Deere & Company. By then, the company was producing over 13,000 plows per year in the largest plow factory in the western states. Manufacturing processes were modernized and the product line expanded: walking plows in variations of five sizes, three sizes of breaking plows, as well as double plows, shovel plows, cultivators and harrows. Deere's son, Charles, who was later to succeed him as president, was elected vice president and treasurer. Charles was an outstanding businessman who established marketing centers (called branch houses) to serve the network of independent retail dealers. The business flourished, as it does today.
John Deere's increasing success allowed him to leave the actual operation of his factory to his assistants so that he could fine tune his products and improve their quality. The concept of the interchangeability of parts was a relatively new one, and Deere adopted it with enthusiasm. During this time, he began patenting some of his ideas, securing his first one (molds for casting steel plows) in 1864. He continued until his death in 1886.
Return to the Blacksmithing Articles listing page.