THE BLACKSMITH'S FINISH LINE:
Farewell to Harry Patton
Owner of Harry Patton, Blacksmith Shop, Monrovia, CA
by Fran Jurga, publisher, Hoofcare and Lameness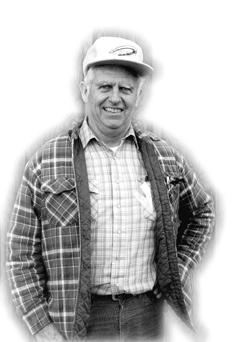 Harry Holiday Patton, the dean of California racetrack farriers, died recently, and with him went some of the greatest understanding and appreciation ever collected in one person about horseshoeing, the hooves of Thoroughbred racehorses, and life behind the anvil. Harry was 76, and had suffered from Parkinson's disease and cancer for several years.
Anyone who met the handsome, silver-haired paddock farrier at the Santa Anita, Hollywood Park and Del Mar racetracks expected flashy southern California glamour. What you got instead was a solid handshake, a few polite formalities and then, "Okay, now let's talk horseshoeing."
No one ever told me more stories than Harry -- stories I'd give anything to hear again -- like what the California platers thought really happened to the Australian racehorse Phar Lap
at Agua Caliente in Mexico in the 1930s. Or what it was like when aluminum racing plates first showed up at the tracks in California. Or the time the platers went on strike, or threatened to.
Harry had a mile-long resume of accomplishments and honors. I think the things he was most proud of were his long association with the International Union of Journeymen Horseshoers (he was national vice president) and the way he reached off the track in his later years to become involved with regular horseshoers. He loved starting his manufacturing and supply business in 1986, selling all kinds of shoes -- even the steel ones -- and getting to know people through his involvement in the Western States Farriers Association, the American Farrier's Association, and the Farrier Industry Association.
At the track, it was Harry's unofficial job to help farriers pass the union test. With Harry's help, dozens of people launched their careers. I'm not sure what was in it for Harry, but he unknowingly helped horseshoeing survive back in the '50s, '60s and '70s by lending out his tools and his advice to all who came his way.
Like most track shoers, Harry shod lots of famous horses for lots of famous trainers and owners, but he really loved just fiddling around with his tools and inventing little devices that would make work a little easier for farriers. Stall jacks, lever punches and plating hammers made Harry's eyes light up more than win tickets.
You'll find Harry in the Horseshoer's Hall of Fame, of course; he was inducted this year. And if there is a winner's circle for horseshoers, Harry Patton will be there.
Harry was proud of his wife, Ada Gates Patton. Ada was his apprentice for more than 10 years before she became his wife. He trained her (and trained her and trained her! she says) until she could pass the union test, a grueling one back in the 1970s: five hours in the fire and an hour under a horse. Under Harry's tutelage, Ada became the first woman licensed to shoe in California, if not the entire U.S., and she still gives all the credit to Harry.
Harry had two sons, Troy and Bruce, plenty of grandchildren, and even a great-grandchild. And then there was his beloved dog, Sammy, of course.
There was a memorial service for Harry Patton on Saturday, November 4, in Pasadena, California.
You can write to Harry's wife, Ada Gates Patton, at 448 Laguna Road, Pasadena, CA 91105. Harry Patton's Blacksmith Shop (farrier supplies) remains open for business at 223 West Maple Avenue, Monrovia, CA 91016.
Donations in Harry's memory can be made to the Western States Farriers Association, 3302 E. Calimyrna Road, Acampo, CA 95220.
For Harry, being a farrier wasn't a sport, or just a job, or even a career. It was a life -- a great life.
Editor's Note: This article was originally written for Hoofcare Online, an online news service for the farrier industry, provided by Hoofcare & Lamensss Magazine. Readers can send their e-mail address to: HoofcareOnlilne@earthlink.net (or sign up at www.hoofcare.com) to be put on the list to receive mailings on activities in the farrier industry, continuing education opportunities, and new product announcements. It is a free service.
Return to the December 2000 Table of Contents
Return to the Commentary Articles Page