Published in the January 2000 Issue of Anvil Magazine
Please note: The complete version of this interview is located in our Full Content Area which is available to Anvil Magazine subscribers and Anvil Online members.
Go to the complete article now
Subscribe now using our secure server
Frank Turley runs Turley Forge Blacksmithing School in Santa Fe, New Mexico. He is also a demonstrator at many blacksmithing events across the country. Frank was a horseshoer before becoming America's most well-known blacksmithing instructor.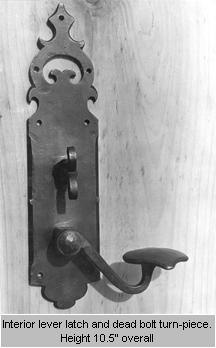 ANVIL: Frank, I didn't realize you were an insurance adjuster, among all the other hats you have worn.
FRANK: I moved to Los Angeles in the early 1960s; I had never had a real job before, only part-time ones. So I went out looking. I got a job adjusting health and accident claims in downtown Los Angeles. My father had been in the insurance business all his life. So I called him up and told him what I was doing. He said, `Adjusting health and accident claims? Son, that's the worst end of the business!' And he was right. It was pretty boring. After ten months of claims adjusting in 1962 and `63, I gave it up. In fact, I wanted to escape from Los Angeles once I was there. But I ended up staying for three years.
ANVIL: So then what happened?
FRANK: When I was a teenager, I was a stable bum - I mucked out the stalls and put on the saddles and bridles for the riders, just so I could get a one-hour ride at the end of the day. They didn't even pay me. In those days - the `50s - you could get an hour's ride for a dollar in Omaha, Nebraska. So while I was doing all that, I used to see the horseshoers ride up in their rigs and I'd watch them. And they were independent and working for themselves. It was hard work, but it looked interesting to me. And that stuck in my mind. I thought that maybe someday I could do that. But I was too chicken to be able to manifest it into reality then. It was just a little dream in my head. So while I was adjusting those insurance claims in California...
<End of Abstract>
Please note: The complete version of this interview is located in our Full Content Area which is available to Anvil Magazine subscribers and Anvil Online members.
Go to the complete article now
Subscribe now using our secure server
Return to the January 2000 Table of Contents
Return to the Blacksmithing Articles