Home
The Calendar
Article Index
Back Issues
TheMarketplace
Resource Guide
Reviews
Anvil Tributes
Subscribe
Submissions
OurAdvertisers
Bulletin Boards
Links
Accessories
About Anvil
EDITOR IN CHIEF/Timothy Sebastian
PUBLISHER/Rob Edwards
ART DIRECTOR/Leisa Backer
ASSOCIATE EDITOR/Mimi Clark
FEATURE PHOTOGRAPHER/Keith Sutter
INTERNET DEVELOPMENT/Tremaine Parsons
ADVERTISING MANAGER/Rob Edwards
CIRCULATION & ACCOUNTING Jody Edwards

E-Mail address: admin@anvilmag.com
Web Site address: http://www.anvilmag.com
CONTRIBUTOR INFORMATION
We appreciate and accept written material and graphics pertaining to the art, science and business of farriery and blacksmithing.
ANVIL Magazine and its staff do not manufacture, test, warrant, guarantee or endorse any of the tools, materials, instructions or products contained in any articles or advertisements published herein. ANVIL Magazine disclaims any responsibility or liability for damages or injuries resulting from the use of any information published in ANVIL Magazine.
(c) 2002 Anvil Magazine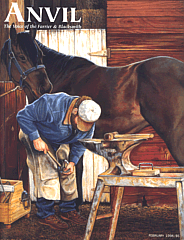 "The Farrier" by
Michelle M. Gladish